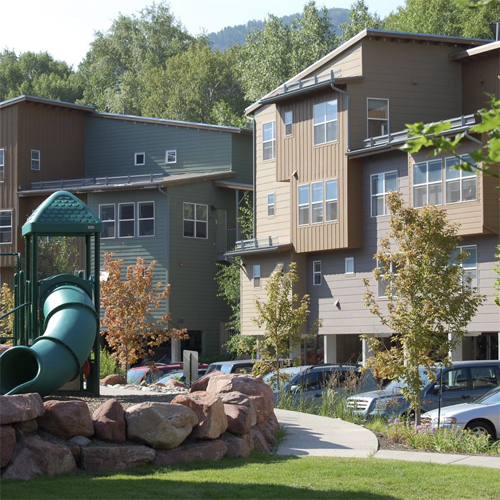 TRUSCOTT
Aspen, Colorado
Year Completed:
2002
Architect:
Theodore K Guy Associates PC
Engineer:
Theodore K Guy Associates PC
Project Synopsis: Located on the Aspen Municipal Golf Course, the Truscott Affordable Housing Redevelopment Project design was focused on preserving the natural features of the site and maintaining a sense of community. The Truscott Redevelopment was developed in Aspen, CO in 2000-2001. TKGA worked in conjunction with Aspen/Pitkin County Housing Authority. Truscott was a pupblicly funded redevelopment project for the City of Aspen and Pitkin County, the project utilized in-place real estate transfer taxes and housing sales taxes to raise the funds necessary to provide for both the infrastructure and the buildings.
The design utilized the clustered courtyard approach in order to preserve privacty, serenity, and livability. Multiple buildings, providing a total of 141 units (100% employee housing), consist of a mix of studio, one and two bedroom units. Cascading shed roof forms, varied building scale and height, and exterior colors give architectural depth to the complex. By providing human-scaled buildings, usable open spaces and covered parking, the Truscott Housing Project achieved its primary goal of being a livable community.